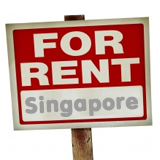 Around 90% of Singaporean families own the property and that is the reason why the Singaporean rental market is almost entirely supported by expats who moved and live in Singapore. It is rather expensive to rent condo, apartment, house or even room in Singapore. Accommodation costs represents up to 40 percent of expenses when you live in Singapore. The increase in rental prices over the past few years has been caused by a competitive property market and limited supply. But even with high rental prices there are many options for foreigners.
As mentioned earlier you can look for condo, private apartment, house, HDB, semi-detached terrace houses or just room rental. One of the biggest factors in deciding what type is appropriate for you is how much you are willing to spend on accomodation. Rental costs and availability vary by location and by the size of the apartment. Single, one-bedroom apartments may be cheaper and easy to find, whereas condominiums for an entire family can be quite expensive and more difficult to fond.
When looking for rent in Singapore, it is recommended that you leave a flexible range of $1,000 to $4,000 a month for rental costs. This amount of course depends heavily on the requirements. The downtown in Singapore, Orchard Road, is in general the most expensive area with apartments costing even up to $5000. Bukit Timah, Holland Road, East Coast, River Valley, Tanglin Road and Orchard Road are all prime residential districts where prices are higher, but there are exceptions. Other districts are in general cheaper. Private condominiums, high-class bungalows, semi-detached terraces and bigger apartments are the most expensive types of accommodation – where in this case rental prices can be in the range of $8,000 to $15,000 per month.
The cheapest option with average rentals being in the $1,500 to $2,500 per month range is usually public housing, or HDB housing,. You should check as many options as you can to ensure you find the accommodation that is right for you. Pleas bear in mind that prices are changing over time. Before renting a room, condo or apartment check the prices information with one of the websites like propertyguru.com.sg or rentinsingapore.com.sg.