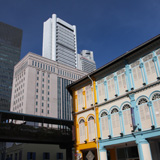 Housing in Singapore is said to be very expensive. It's one of the rare expensive things in this country as compared to Europe.
The vast majority (more than 80%) of Singaporeans live in public housing. These homes are located in housing estates, where most are developed neighborhoods with schools, supermarkets, clinics, food centres and recreational facilities.
There are roughly 5 types of accommodations in Singapore.
The HDB: Cheapest type of housing ever, low quality but low expenses too: (250 to 800 S$ per month PER ROOM depending on standing, location, and if you'd be sharing the room or not)
The Semi-Condo: It's half-way between the cheap quality of the HDB and the high-definition of a condo. It's simply nice, although often no common shared facilities (Roughly from 600 to 1200 per month PER ROOM depending on standing and location)
The Condo: Shared facilities (BBQ, Swimming Pool, 24/7 security, etc) + high standing. At least 800 S$ per month PER ROOM, average would be 1200 S$.
Rooms in private houses: the so called landed properties. For the the locals this is the best thing to live in because they know how land is rare and expensive, so they love it. But for me, many foreigners I asked, and assumably any young professional from Europe, they are not nice. Maybe because they are isolated, expensive, not social, and have generally no pool, gym etc..
Everything else: apartments on top of shops, student residences.
The most popular options for (long-term) exchange students and young professionals would be HDB and condo depending on the budget you want to allocate to your rent.
If you're very specific about what kind of household you want, the best is probably to rent a whole unit, and find the like-minded people to share it with you. This way, you can have your own rules, i.e. couchsurfing allowed.
for full reference please visit youcefbanouni.com