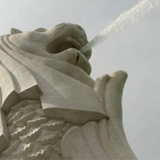 Singapore is a popular travel destination, contributing to the importance of its tourism industry. To attract more tourists, the government has decided to legalize gambling and to allow two casino resorts (euphemistically called Integrated Resorts) to be developed at Marina South and Sentosa in 2005. To compete with regional rivals like Bangkok, Hong Kong, Tokyo and Shanghai, the government has announced that the city area would be transformed into a more exciting place by lighting up the civic and commercial buildings what makes this place even more interesting to visit.
Singapore Flyer
The Singapore Flyer is the world's largest Giant Observation Wheel. A one-of-a-kind experience, and built over a three-story terminal building, the Flyer is 150 metres in diameter, 165 metres high, and travels at 0.21m per second and from it you'll get to see such city sights as the Singapore River, Raffles Place, Marina Bay, Empress Place and the Padang. Each of its 28 city-bus-sized air-conditioned capsules can carry up to 28 passengers and a complete rotation of the wheel takes approximately 30 minutes.
Merlion
The Merlion is the mythical symbol of Singapore and is situated at the Merlion Park at Marina Bay. The statue is a creature representing a cross between a fish and a lion, spouting water out from its mouth into the river. This famous imaginary beast attracts over a million visitors per year. The park itself has a nice setting with terraced seating offering great views of the city skyline and landmarks as well as the scenic waterfront.
Raffles Hotel
This luxurious colonial-style hotel has a long history dating back to 1887 and has become one of the most important Singapore landmarks. Among famous guests are Elizabeth Taylor, Queen Elizabeth II and the late King of Pop, Michael Jackson. The Raffles Hotel features 103 suites and 18 distinctive restaurants and bars as well as an arcade with over 40 boutiques and stores (think Louis Vuitton and Tiffany & Co.) Many come for the Raffles Bar experience and you can be sure to enjoy the best Singapore Sling in town. After all, it was invented here and they've had almost 100 years of experience at making them.
Underwater World on Sentosa
This famous oceanarium offers a collection of about 2,500 marine creatures from 250 species as well as a popular dolphin show. One of its highlights is the walk-through tunnel which makes one really feel like being underwater. Among the interesting marine life are colourful tropical fishes, sharks, dugongs, rays and giant crabs.
Chinatown
Chinatown features hundreds of choices of restaurants and a myriad of after-dining attractions in this popular night spot. Just a short drive from Shenton Way, the financial centre, Chinatown and the fashionable Orchard Road shopping belt is a magnet for those seeking the allure of the night. Chinatown can be divided into four main districts – Kreta Ayer, Telok Ayer, Tanjong Pagar and Bukit Pasoh – each with its own distinctive flavour.
for full reference please visit www-singapore.com