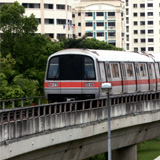 Traveling in Singapore is both easy and economical. There is an efficient public transportation network, which offers taxis, buses, and the modern Mass Rapid Transit (MRT) rail system. With its excellent public transport system, Singapore is, without a doubt, the easiest city in Asia to get around.
Singpapore's modern Changi International Airport is vast, efficient, and organized. There are banking and money-changing facilities, a post office, which is open 24 hours a day, credit card phones, free phones for local calls, Internet facilities, free hotel reservation counters, luggage facilities, restaurants, day rooms, fitness centers, saunas, business centers, and over 100 shops. The airport even provides free films, bars with entertainment, hairdressers, medical facilities, a swimming pool, and even a mini Science Discovery Museum. In other words, Changi International Airport has almost everything a visitor would require.
There are two terminals: Terminal 1 and the newer Terminal 2. The Changi Skytrain, which is a monorail, shuttles between both terminals. Located on the extreme eastern end of the island, the airport is about 20km from the city center. To add on to the airport's efficiency, "airbuses" are provided to make traveling to and from the airport much easier. The airbus will take the weary traveler straight into town without any hassles and at a reasonable rate too.
Singapore has over 15,000 air-conditioned taxis, which provide comfortable, hassle-free traveling at reasonable costs. Visitors can flag them down anytime. To further ease visitors, well marked taxi stands are available outside most major shopping centers and hotels. An extra charge will be added during peak hours, as well as for advanced booking.
Clean, punctual, and air-conditioned, Singapore's MRT subway system is a hallmark of efficiency. It is the easiest, fastest, and most comfortable way of getting around Singapore within minutes. Do note that there are fines for littering, smoking, eating and drinking in MRT stations and on board the trains. The MRT operates from 6 a.m. to midnight at frequencies of 3 to 8 minutes.
Singapore's bus network is extremely frequent and comprehensive. Visitors rarely have to wait more than a few minutes and a bus will get them anywhere. If you are planning to travel a lot by public transport, it is best to purchase a copy of the TransitLink Guide, which has a list of all bus and MRT (Mass Rapid Transit) services. You can also buy the TransitLink Card, a stored value card that can be used on both the MRT and bus. Most buses operate between 6 a.m. to midnight.
Visitors should have a valid driving license from their country of residence or an International Driving License in order to drive in Singapore. During peak hours, all vehicles passing through Electronic Road Pricing Scheme (ERP) roads should have an In-Vehicle Unit (IU) installed in the vehicle. A CashCard (stored value card) is used to pay the tolls. The toll is deducted each time the vehicle passes through ERP gantries. IUs can be rented at S$5 a day (minimum two days) with a deposit of S$120. Sales outlets are located near the Woodlands Checkpoint – at BP, Caltex, Mobil petrol stations, and two at Woodlands center.
MORE DETAILED INFORMATION
Car Rental and Driving
Car hire, petrol, parking, and electronic road pricing fees make this the most expensive transport option. If planning to tour Malaysia by car, rather cross the border to Johor Bahru and hire a car there where costs are half the price. Having said that, Singapore has excellent roads and drivers obey the traffic rules due to stringent enforcement.
International Driving Permits are valid for a year, after which they will need to be converted to Singapore licences. Singaporeans drive on the left and the driving age is 18. The speed limit is low – 90km/h on expressways and 50km/h on other roads. The wearing of seatbelts is obligatory and using a phone while driving is banned. Do not drive if you have been drinking as offenders are heavily fined and possibly jailed. Do not even consider bribing your way out of a traffic offence.
Singapore Travel Passes and Fare Cards
If you are staying in Singapore for some time, the EZ-link farecard (equivalent to London's Oyster card) is a worthwhile purchase, obtainable at any MRT or bus station. You can store value on it and use it on the MRT trains as well as all city buses at a 15% discount, and you get a $0.50 discount on transfers too. The card costs $15, including $10 stored value, and the card can be "topped up" in increments of at least $10 at the farecard vending machines or 7-Eleven stores. Single tickets can be purchased for both MRT and buses, but try to avoid this option as, in the case of buses, it delays other passengers because the driver has to count fare stages to arrive at the price you need to pay. Simply tap your card against the reader at the front entrance of the bus when boarding and the maximum fare is deducted. When alighting, tap your card at the exit and the difference is refunded.
Alternatively, the Singapore Tourist Pass available at selected major MRT stations (including Changi Airport and Orchard) also includes EZ-link card functions and a variety of discounts for attractions. Options are: 1-day $8, 2-day $16, 3-day $24 for unlimited travel on MRT and buses. A $10 deposit is refundable to the buyer if the Pass is returned within 5 days of purchase.
Public Transport in Singapore
The MRT (Mass Rapid Transit or Subway)
The MRT network has three major lines which cover most places, including Changi Airport, and is the most convenient way of getting around Singapore if you are limited by time to see only the city's most interesting sights. Because of the MRT, chewing gum is banned in Singapore as, when stuck in the doors, it prevents them from closing. MRT stations are clean and have free toilets. The North-East line is driverless.
MRT trains are usually the preferred way to travel around Singapore because of the ease of use and reliability. Two main rail lines service the city: the North South Line runs from Marina Bay to Jurong, and the fully automated East West Line runs from Pasir Ris to Boon Lay. Connect from the East West Line to the North East Line by changing trains at either Dhoby Ghaut Station or Outram Park Station. There is an express train to Changi Airport that you can pick up at Tanah Merah Station.
MRT trains offer visitors and residents alike an inexpensive means to travel through the city. For single-trips, you pay from S$0.80 – S$2. S$1 of that is refundable after your ride. You may also use a convenient EZ-Link card. Transfers do not require additional tickets. MRT stations are clearly marked and are clean and quite safe to use.
Click picture below to download helpful guide to travelling on the MRT, buses and taxis (provided by publictransport.sg). Thanks to this guide you can find out how to use the various public transport services in Singapore.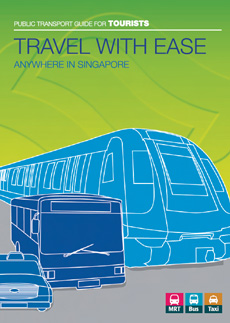 Buses
The Singapore bus system offers a fleet of 800 buses and 74 routes covering the city-state. It is a good idea to have an EZ-Link card when riding the buses. When you board, tap your card on the reader at the front. It will deduct the maximum fare from your card. When you arrive at your stop, remember to tap it again. The remainder of the fare is refunded to your card. If you forget to tap the reader, you will pay the maximum fare. Paying cash is complex and time-consuming, and you are unlikely to get change back. A convenient feature is the NighRider services. Starting after midnight on Fridays and Saturdays, and before public holidays, buses run every twenty minutes on seven lines. Hit hotspots around the city for a flat fare of S$3.50.
Another option for getting around and sightseeing at the same time is the hop-on, hop-off bus. The price is $12 for a day pass and the bus stops at 23 major tourist sights along its route. Tickets are purchased from the driver.
Boat
Tourist bumboats cruise on the Singapore River past the Esplanade offering point-to-point rides starting from $3, while cruises with good views of the CBD skyline start from $13.
Bumboats also shuttle passengers from Changi Village to PulauUbin ($2.50 one-way), a small island off Singapore's northeast coast which is about as close as Singapore gets to unhurried rural living.
There is a ferry ($15 round-trip) to Singapore's largely uninhabited Southern Islands for a picnic and lagoon swimming, but take food and drinks as there are no shops on the islands.
Trishaws
Trishaws, three-wheeled bicycle taxis, ply the area around the Singapore River and Chinatown. Geared purely for tourists, they aren't really recommended for serious travel and locals do not use them. There is little room for bargaining: short rides will cost $10-20 and an hour's sightseeing charter about $50 per person.
Using Taxis in Singapore
Taxicabs use meters and are reasonably priced and honest, although the fare structure is remarkably complicated. Outside weekday peak hours, trips within the city centre should not cost you more than $10 and a trip across the island from Changi to Jurong should not cost more than $35. For groups of 3 or 4, it's sometimes cheaper and faster to take a taxi than the MRT.
Taxi pricing is largely identical across all companies at $2.80 for 1km followed by an increase of 20 cents per 385m. (The sole exception is SMRT's giant black Chryslers, which charge $5.00 and $0.30/385m.) There are increases for peak hour (35%), late night (50%), central business district ($3), phone booking ($2.50 and up), public holiday ($1) and Electronic Road Pricing surcharges, which may add a substantial amount to your taxi fare. All such charges are shown on the bottom right-hard corner of the meter, recorded in the printed receipt and explained in tedious detail in a sticker on the window; if you suspect the cabbie is trying to pull a fast one, call the company and ask for an explanation. Note that there is no surcharge for trips to the airport. Credit cards are accepted by most but not all cabs, so ask when getting in, and a 17% surcharge applies for this too. During rush hour in the city centre, or late at night on the weekends, it's wise to call for a taxi from the unified booking system at 6342 5222 (6-DIAL-CAB).
In the Central Business District, taxis may only pick up passengers at taxi stands (found outside any shopping mall) or buildings with their own driveways (including virtually all hotels). Outside the city centre, you can hail taxis on the street or call one to your doorstep. At tourist nightspots featuring long queues, such as Clarke Quay, you may occasionally be approached by touts offering a quick, flat fare to your destination. This is illegal and expensive, but reasonably safe for you. (The driver, on the other hand, will probably lose his job if caught.)
Getting Around on Foot
Experiencing any city on foot will provide you with insight into the culture; in keeping with Singapore's dedication to eco-friendly living, walking is a popular option for seeing the sights. There are ample sidewalks and crossings, and drivers are generally very cautious. Be sure to use the crosswalks, though, because jaywalking can elicit fines of S$300 and up to three months in jail. If you plan on walking, bring water. Singapore's tropic humidity will start to feel more sweaty than sultry. Cool off and refresh yourself at cafes or indoor, air-conditioned attractions before continuing your walking tour. Mornings and evenings are best for walking.
for full reference please visit rentinginsingapore.com.sg