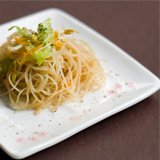 The cuisine of Singapore is indicative of the ethnic diversity of the culture of Singapore, as a product of centuries of cultural interaction owing to Singapore's strategic location. The food is influenced by the native Malay, the predominant Chinese, Indonesian, Indian and Western traditions (particularly English) since the founding of Singapore by the British in the 19th century. Traces of cuisines such as Thai and Middle Eastern exist in local food culture as well. In Singaporean hawker stores, for example, chefs of Chinese ethnic background influenced by Indian culture might experiment with condiments and ingredients such as tamarind, turmeric and ghee, while a Tamil chef might serve a fried noodle dish.
1. General place to find Singapore food
OPTION ONE:
Take the MRT to Ang Mo Kio Station. Ask anyone around to point you the way to the nearest hawker centre. It has a very good selection of quintessential Singapore cuisine.
– Price range: less than $.
OPTION TWO:
– Take the MRT to Bishan MRT station.
– Go to the bus interchange (ask around for directions – it's a minute's walk through the mall next to the MRT).
– Take the 'Green' Bus No. 410.
– Get off at Thomson Plaza. (Ask the bus driver for help).
– On both sides of the road are lots and lots of food places of all kinds. Chicken rice, porridge, roti prata, Japanese (Tomoe restaurant is very decent), Korean, etc.
2. Tanjong Pagar Plaza.
– Price range: less than $.
– Take the MRT to Tanjong Pagar Station.
– Go to Tanjong Pagar Plaza (10 – 15 minutes' walk; ask for directions). There's a food court above the market.
– Recommended: Tanjong Pagar Char Kway Teow.
'char kway teow' refers to the big, flat rectangular pieces of noodles fried with dark soy sauce, cockles, lard, bean sprouts, chilli, etc.
– You can ask for your char kway teow without chilli.
– Also recommended: Annie's Ice Kacang
– Ice kacang is essentially shaved ice with condensed milk and sugared syrups of different colours poured over it, jelly bits, red beans, etc. added to the mix. This stall is special because the lady adds chopped peanuts, which gives it a very nice twist.
3. Japanese fusion: Sun With Moon
– Lunch: $ to $$.
– Dinner: $$ to $$$.
– Take the MRT to Orchard MRT station.
– Ask for directions to Wheelock Place (10 minutes using the underpass).
– Borders Bookstore is on the first floor
– Go to the third floor: Sun With Moon is there.
– Very good Japanese fusion (mostly Japanese, except that they offer avocado roll, California roll, etc.)
– Incredibly popular. Reservations for lunch and dinner sometimes required at least two weeks beforehand, unless you can be there at noon and five p.m. respectively
– Very good service.
4. Chinese food
– Recommended: Peach Garden ($$$).
– Three branches: at Thomson Plaza, Novena and at OCBC Centre. Have only gone to the one at OCBC Centre.
– Make reservations beforehand (+65 6535 7833).
– Take MRT to Raffles Place Station.
– Ask for directions to OCBC Centre (fifteen minutes' walk from the station).
– It's on the 33rd floor.
– Order the roast pork, which is served as neat cubes with crisp skin, and spicy mustard.
– Also order the egg-and-wasabi prawns.
– Ask them for other recommendations.
reference from Ally